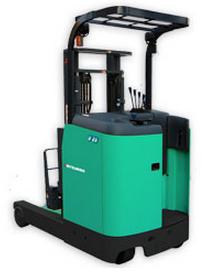 Stand-on Reach Trucks 0.9~3.0 ton
Stand-on Reach Trucks 0.9~3.0 ton
They are particularly suited to operation in very narrow aisles and to handling exceptionally long loads.
Ready
Ergonomic control allows operator to work quickly yet safely

Clear-view mast ensures excellent view of load and fork tips

Innovative controls with smooth steering and feather light fingertip controls for easier, more comfortable and more precise operation.
Reliable
Rapid lift and travel speeds deliver high throughput

Each machine is totally programmable to suit your load, your warehouse and your driver

Narrow chassis for excellent maneuverability in confined spaces.
Right on the money
Unprecedented service access slashes service downtime

Large capacity battery available for extra-long shift life

Regenerative braking delivers higher energy gain, maximising shift length and throughput.
Specifications :
| | | | | | |
| --- | --- | --- | --- | --- | --- |
|   | Model | Power | Type | Capacity | Load Center |
|   | RBS10CA | AC 24V | Electric Reach Trucks | 1000 (kg) | 500 (mm) |
|   | RBS10WCA | AC 24V | Electric Reach Trucks - Wide Straddle Leg | 1000 (kg) | 500 (mm) |
|   | RBS13CA | AC 24V | Electric Reach Trucks | 1250 (kg) | 500 (mm) |
|   | RBS13LCA | AC 24V | Electric Reach Trucks - Long wheel Base | 1250 (kg) | 500 (mm) |
|   | RBS13WCA | AC 48V | Electric Reach Trucks - Wide Straddle Leg | 1250 (kg) | 500 (mm) |
|   | RBS13WLCA | AC 48V | Electric Reach Trucks - Wide Straddle Leg & Long wheel base | 1250 (kg) | 500 (mm) |
|   | RBS14CA | AC 48V | Electric Reach Trucks | 1350 (kg) | 500 (mm) |
|   | RBS14LCA | AC 48V | Electric Reach Trucks - Long wheel Base | 1350 (kg) | 500 (mm) |
|   | RBS15CA | AC 48V | Electric Reach Trucks | 1500 (kg) | 500 (mm) |
|   | RBS15LCA | AC 48V | Electric Reach Trucks - Long wheel Base | 1500 (kg) | 500 (mm) |
|   | RBS18CA | AC 48V | Electric Reach Trucks | 1800 (kg) | 500 (mm) |
|   | RBS18LCA | AC 48V | Electric Reach Trucks - Long wheel Base | 1800 (kg) | 500 (mm) |
|   | RBS20CA | AC 48V | Electric Reach Trucks | 2000 (kg) | 500 (mm) |
|   | RBS20LCA | AC 48V | Electric Reach Trucks - Long wheel Base | 2000 (kg) | 500 (mm) |
|   | RBS25CA | AC 48V | Electric Reach Trucks | 2500 (kg) | 500 (mm) |
|   | RBS25LCA | AC 48V | Electric Reach Trucks - Long wheel Base | 2500 (kg) | 500 (mm) |
|   | RBS30CA | AC 48V | Electric Reach Trucks | 3000 (kg) | 500 (mm) |
|   | RBS30LCA | AC 48V | Electric Reach Trucks | 3000 (kg) | 500 (mm) |
|   | RBS9CA | AC 24V | Electric Reach Trucks | 900 (kg) | 400 (mm) |
|   | RBS9LCA | AC 24V | Electric Reach Trucks - Long wheel base | 900 (kg) | 500 (mm) |